RoleCall is a software application that helps organizations manage membership data while empowering employees with relevant and actionable data to act in real-time. RoleCall helps increase workflow and data transparency through the use of existing databases and API connections.
Youth Organizations have a wealth of data on its members. However, there isn't a clean and concise way to share it with employees. Currently, human memory plays a primary role in recalling who members are and what types of ailments they might suffer from. This is a particularly stressful task for employees on the front lines who interact directly with the members. These front line employees organize activities, monitor the schedule, make sure the members are behaving, and on top of that they also need to learn names and ailments as fast as possible. That's a lot of stress to put on these employees. This stress is amplified when the checkout process is activated and there are 5 or more names called at a time over the intercom. It leads to longer attendance processing times and as a consequence disgruntled parents. Unfortunately, human memory is prone to error and that could lead to incidents that could of easily been prevented (ie. exposure to something they are allergic to)
Role Call empowers the employee with simple member data, at their fingertips. Our solution eliminates the stress that employees experience when trying to memorize up to 100 names in a couple of days; and it provides them with relevant data to act in real time. In addition, Role Call connects to your existing database so there is no need to reinvent the wheel. You just specify which bits of information you'd like to share with your employees, and Role Call can securely push that data (in real time).
Check out our Case Study regarding how we improved attendance processing by 83% at The Brigade.
Powerful Info at your Fingertips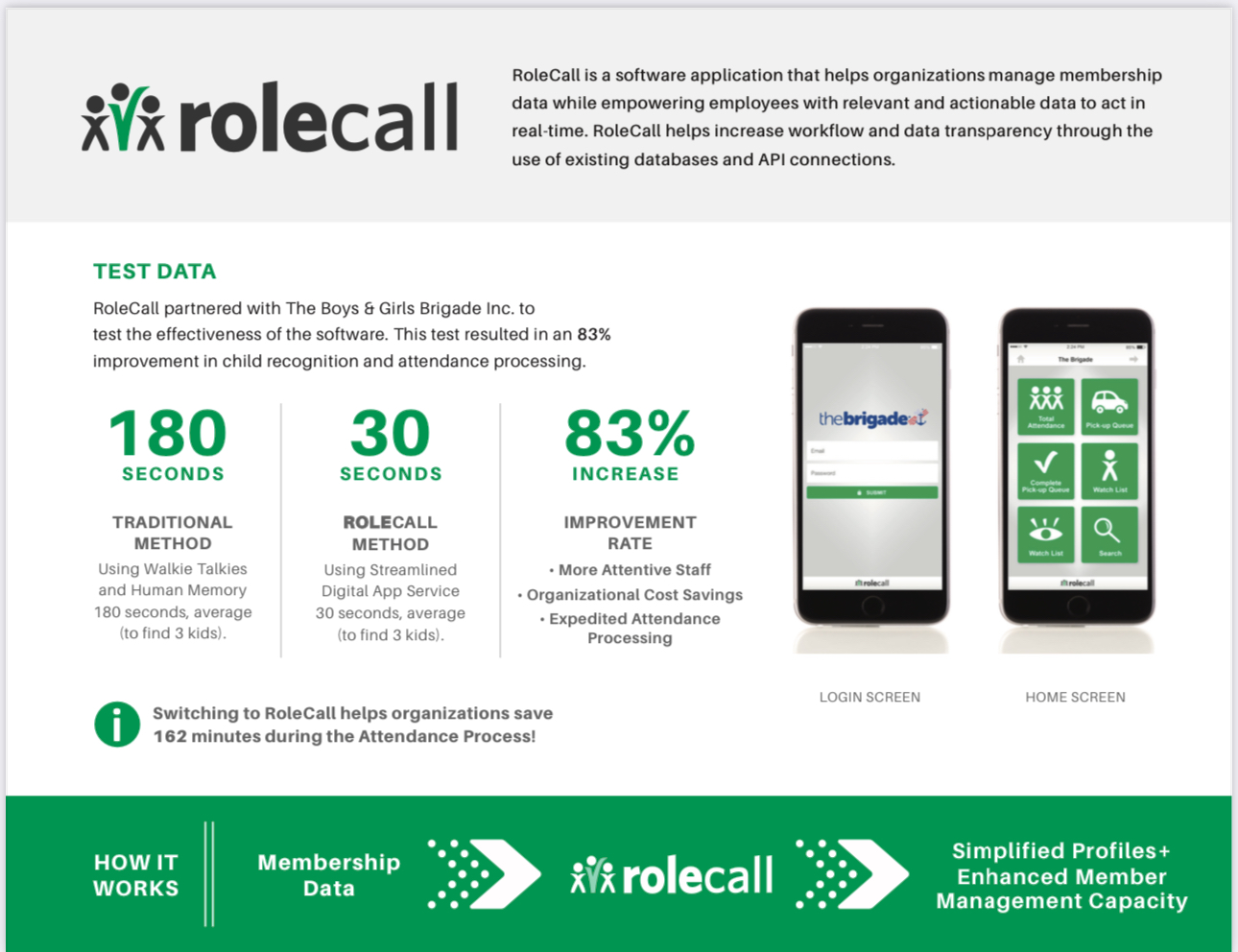 Become a Beta Test Partner
Learn how Role Call can help your organization increase the efficiency of your Attendance Process by up to 83%. No hassle and no financial committment necessary
Continental United States